Frequently Asked Questions (FAQ)
Updates
How do I update the multisite plugin?
Just like any other plugin, on the WordPress admin update page.
How often do you update the plugin?
Normally 1-4 times a month. You can see the changelog here: https://woomultistore.com/changelog/. There can be longer periods between updates if no changes are required.
Will you always continue updating the plugin?
This plugin is important to both us and the users of the plugin. We will continue to update it and develop it with new features in the future.
Multisite version vs Stand-alone version
What's the difference between the multisite version and the stand-alone version?
The multisite version is for WordPress multisite and the stand-alone version is for the regular WordPress installations.
On the multisite version, user accounts are shared, meaning that users can log in to all stores in the network with the same credentials. On the stand-alone version, customers need to register on each store separately.
On the multisite version, all of your stores need to be on the same server and the same hosting, on the stand-alone version there are no such restrictions.
Which version do you recommend?
If you are going to run a large network, we recommend that you use the Multisite version. But for most users, we recommend the stand-alone version, as it's easier to manage.
Are both versions supported?
Both versions are supported and being actively maintained.
Where can I download the stand-alone version?
It's the same plugin you download from our site. Depending on if its multisite or stand-alone stores, the plugin activate different version.
How many licenses do I need?
Regardless of whether you are running the multisite version or the single-site version, you will need, only one license to run a network. A network consists of one master site and an unlimited number of child sites.
Network
Can I use different domains?
Yes, you can use any domains in the network, for example:
domain1.com
domain2.fr
domain3.net
You can also use subdomains if needed, and also subdomains and domains together, for example:
shop1.domain1.com
shop2.domain1.com
shop3.domain1.com
domain2.fr
domain3.net
Yes, they can use different themes, You can also use the same theme with different settings for your stores.
Can I use my current WooCommerce store as a base for republishing to new stores?
Yes, there is no need to start from scratch with a new store. Your current store, that is already set up is an easy way to start.
Can every store work and appear as a standalone store?
Yes, for the customer every store always appears like a standalone store. You can also set a shop owner for each store who only have access to that one store's administration.
Can the plugin be used for old products or only newly created?
You can use the plugin in your old store. It can be used for both old and new products.
Can my stores use different themes?
Yes, they can use different themes, You can also use the same theme with different settings for your stores.
Is it possible to use the WooCommerce API for every Multistore Shop?
Yes, you can use each shop's API just the way you are used to from any WooCommerce shop.
Can I integrate Google Analytics and view store specific analytics statistics?
Yes, you can input a store specific analytics tracking code for each store. In Google Analytics you will then see the statistics for each store just as you would for any other standalone site.
Can some of the connected stores be in a multisite network and some of the stores be single Wp installs?
To connect stores and sync between them your stores need to be either on a multisite setup or to be only single WordPress installs.
Server
What kind of server do I need to use the plugin?
You can use any kind of server that you normally would use for WordPress. Web hosts with shared hosting, VPS or dedicated servers all work fine. Many web hosts oversell their servers which can slow down traffic or create down time, so make sure you choose a reputable host.
Can you recommend a web hosting?
To keep our integrity we do not recommend any specific web hosting. We would advise you to keep away from the cheapest hosts as they tend to oversell their servers.
We recommend not to use Hostgator or any hosting owned by Endurance International Group (EIG) (https://en.wikipedia.org/wiki/Endurance_International_Group) because of support issues.
Users
Can users log in to all my stores with the same credentials?
Yes, but only if you use WordPress multisite. For multisite, upon request, we can provide you with a free plugin that makes a user able to log in only to the site where he registered.
For creating a common log in when using the regular WordPress version, all of your sites need to be in the same database (using different prefixes) and you will need to follow
these instructions
. 
Can users see all their orders from any of my stores when they log in to one of the stores?
Yes, if you use multisite, but you can use the plugin mentioned above to avoid that.
Products
Do I have to sell all the products in all the stores?
You can select which products that any store sells. You can also create unique products in any store.
Can I change the title, description, price and the category for products in the different stores?
Yes, please take a look at the image below to see the options. You can turn off syncing for each store. Chose to not sync. the product title, description, short description, price, tags, product image and image gallery, product thumbnail, variations, attributes, reviews, categories, category images, category descriptions, upsells, cross-sells, purchase note, URL (product slug).
Click the image to see the details: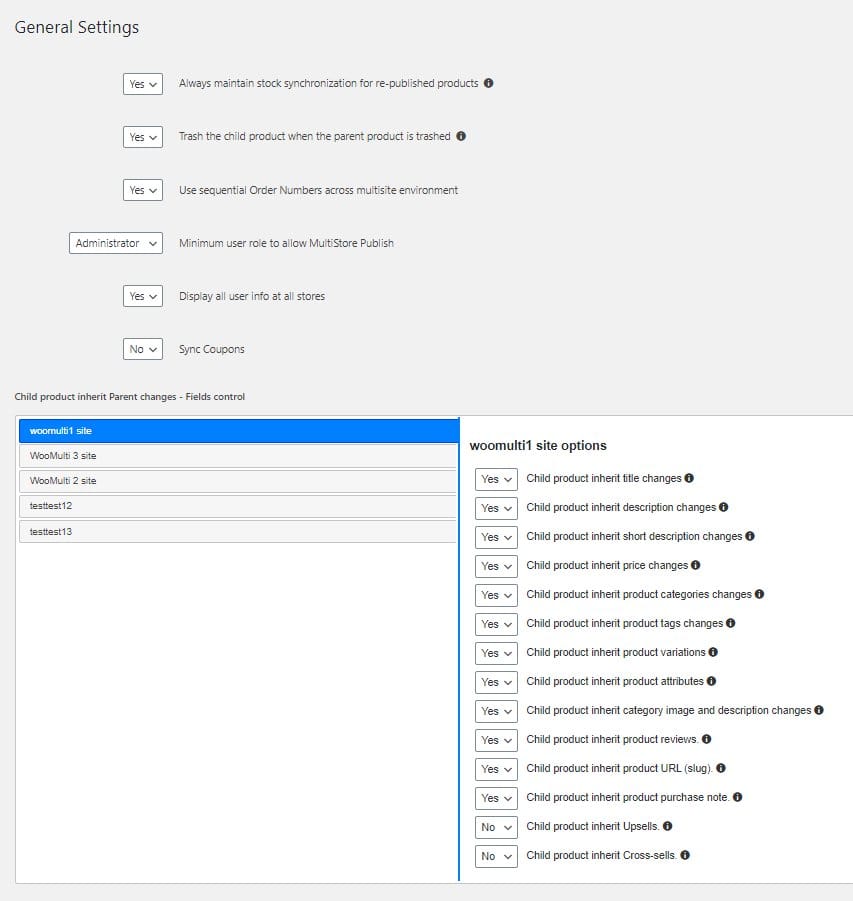 Can a child store that inherits products from the main store also add/edit other products that are only available for sale on that specific store, and nowhere else?
Yes. Just create unique products in your sub-store as normal. 
Orders
Can each store in the network manage their own orders?
Yes, each store has a standard order interface just like a single WooCommerce store. Each store can be handled by a shop manager that has access to that shop only.
Payments
Can I use any payment gateways for any store?
Yes, any payment gateway plugin works. Additionally, any store in the network can use different, or the same payment gateways. It's also possible to use multiple payment gateways such as Stripe, PayPal, Authorize.net etc.
License
What is the difference between a Single License and a Developer License?
The single license covers one entire network of stores that are synchronized together regardless of how many stores/domains you use.
The developer license covers up to five different networks of stores that are synchronized together regardless of how many stores/domains you use in each network.
When to purchase the Developer License?
Most users need only the single license to cover all their stores/domains. The following are examples of situations where you should purchase the Developer License:
You run several networks.
You have a test network in addition to your production network.
You are a developer that has several customers, all with their own network of stores.
I used the license key at a development site/domain, how do I move it to the production site?
That's simple. Log in to your account and deactivate the registered domain, then use the license key at the new site. If for any reason you can't log in to your account contact us and we will deactivate the registered domain for you.
Why should I buy a Developer License?
A good reason for getting the Developer License is that you easily can have a fully working test/developer network environment where you test new plugins, design or other elements. To avoid downtime you should always test new things in a test environment before deploying them to your live store.